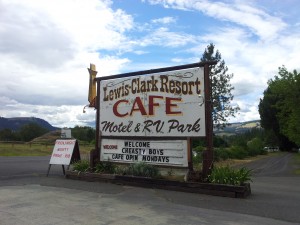 Tour 2013 is now history!  Here's the pictures:
——————————————————————–
First, the tour dates this year are June 21-24. The afternoon of the 20th, we drive to the start/finish. We drive home on the 24th. The start/finish city is Lewiston Idaho.
Lewiston, Idaho to Kamiah, Idaho, 0-87, 87 miles, approximately 6000′
Loop from/to Kamiah, 87-171, 84 miles, approximately 5700′
Kamiah, Idaho to Orofino Idaho, 171-247, 76 miles, approximately 5600′
Orofino, Idaho to Lewiston Idaho, 247-334, 87 miles, approximately 7700′
You will note that we have one big climb near the beginning of everyday, and we always end each day with a descent – in some cases an epic one. For example, we finish the tour by riding down the spiral highway into Lewiston. This piece of road is legendary… Check this out:
http://youtu.be/0HHXp2RPJwM
NO CAMPING THIS YEAR, and you'll also note we stay in Kamiah two nights.
PLEASE –
do not pass on this invite to anyone else on this list without checking with me first
. We are currently planning on twenty people, which is the number in the list above.
Let the training begin…
-Your Tour CEO, Tom Shafer
————————————————–
Dudes,
Rain came, but that didn't stop me from doing some lodging research on all those Idaho sensations coming our way in June!
In doing that came across a 3 minute vid of the last 6 miles of our trip (Ol' Spiral)…and it's a trip!  Try not to get dizzy…and keep this tastiness in mind when we're slogging it out in 45-degree precipitation this weekend.
We should probably practice some cornering when the tarmac dries up… 🙂
-Jeff